Home >>About Us
THE RACELINE ADVANTAGE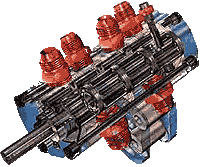 RACELINE combines innovative design with aerospace precision and flawless workmanship to produce a truly premium dry sump pump. One that can be relied upon - race after race - to protect today's expensive racing engines.
BY-PASS SYSTEM
RACELINE's by-pass system is one of its most important and innovative features. Unlike the closed loop conventional system in which the by-passed oil is continually recycled within the pressure stage (with continual heat build-up), RACELINE's by-passed oil is routed through the hollow idle shaft - pressure feeding the idle gears - then dispersed into the scavenge stages where it is pumped back to the oil tank. An additional benefit of this exclusive system represents a very real potential for horsepower savings. With the aid of a few inexpensive dyno preparations, this system alone provides a way to actually measure the returning by-passed oil for a positive guide to optimum pump-to-engine speed coordination.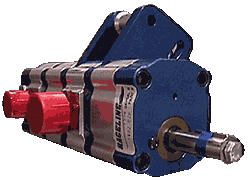 STEEL THRUST PLATES




RACELINE

, alone, uses micro-ground, hardened steel thrust plates at both ends of each gear section. They not only make possible the use of bearings between each section, they completely isolate the expensive front and rear bodies and dividers from the gears, thus eliminating the inevitable damage caused when steel gears wear against aluminum.
DRIVE SHAFT BEARINGS
RACELINE uses precision bearings between each gear section - and for very good reason: it assures absolute alignment, and prevents shaft flex that is common to pumps that use only front and rear bearings. This important feature allows much tighter gear-to-housing clearances, resulting in exceptional vacuum in the scavenge stages, and upwards of 10% greater efficiency in the pressure stage - and without fear of the gears scoring the housings; one of the most common causes of pump failure.
OFFSET INLETS
RACELINE's pumping stages have 9-degree off-center hose connection inlets. They are factory positioned 18-degrees apart for easier hose alignment and wrench access. They can, however, be rearranged as a great solution to a frame clearance problem.
DIRECT CONNECTION EXHAUST
RACELINE's .660 sq. in. unrestricted internal porting is so effective it completely eliminates the need for an expensive and cumbersome external exhaust manifold. In fact, extensive Dyno comparison tests showed Raceline's direct-connect dash 16 single outlet superior in scavenge recovery flow.
ADDITIONAL RACELINE FEATURES

Cell-to-cell dowel pin alignment
O-ring sealed housings
4340 hardened & ground drive shaft
4130 hardened & ground idle shaft
No rear bearing-cap plug
5/16" Stainless steel housing shafts
Top